Oak's grant-making in Switzerland over the years
Oak Foundation's main administrative office is in Geneva, Switzerland. We are proud to be here in the human rights capital of the world, among hundreds of not-for-profit organisations, UN organisations, and foundations, all striving to make the world a better, safer, cleaner, fairer place. Oak chose Switzerland for its main administrative office because of its stable and predictable legal, political, and economic system. Switzerland's regulations on charities are clear and support the belief that democratic societies depend on the active participation of civil society organisations. In addition, there is a high concentration of knowledge and expertise in Geneva, which makes recruiting staff easy.
Throughout the decades, and through our various programmes, we have made many grants in Switzerland. Our International Human Rights Programme (IHRP) supports Geneva-based organisations that work with UN mechanisms, such as the International Commission of Jurists, the Global Detention Project, and Huridocs. These partners engage in advocacy, research, and capacity building, with both UN bodies and civil society organisations working in Geneva and elsewhere. We are conscious of the important role that Geneva continues to play in the global human rights movement. The IHRP also supports not-for-profit organisations Civitas and Trial, which use Switzerland's favourable framework for the prosecution of perpetrators of gross human rights abuses to end impunity for crimes. These cases are pursued through local Swiss courts.
Our Issues Affecting Women Programme (IAWP) began grant-making in Switzerland 16 years ago, and currently funds ten organisations across the country. Many of these organisations are located in the French-speaking cantons. We work to strengthen women's rights and the women's movement in Switzerland more broadly. Current grantmaking focuses on service providers that are working to end trafficking, exploitation, and domestic violence, including psychological abuse. We are expanding grantmaking to include a focus on helping migrant women integrate into Swiss society.
Several of the partners of our Environment Programme (EP) are also based in Switzerland, such as WWF International. As a leading conservation organisation, WWF works in nearly 100 countries, collaborating with people around the world to develop and deliver innovative solutions that protect communities, wildlife, and the places where they live. In addition, the Swiss Philanthropy Foundation is the main fiscal vehicle for the EP's new, experimental campaign portfolios that aim to support grassroots organisations globally. Through our Special Interest Programme, we support environmental organisation swisscleantech, a not-for-profit organisation that works to promote a sustainable economy in Switzerland through technical innovation, and a more sustainable and liberal economy.
Our Special Interest Programme also supports several not-for-profit organisations in Switzerland. These include: Entraide Protestant Suisse (EPER), which supports and provides services to migrants in Geneva; Association Savoir Patient, which strives to improve care and the quality of life of breast cancer patients; Fondation MalleyPrairie, which helps victims of domestic violence; and Fondation Partage, a foodbank that helps fight against food waste, and distributes food and hygiene products across the city of Geneva, reaching thousands in need each week. In addition, we are proud to support the well-known and longstanding humanitarian organisations Médecins Sans Frontières and Terre des Hommes, which work hard to respond to humanitarian crises around the world, including, most recently, the Covid-19 pandemic.
Through the Prevent Child Sexual Abuse Programme (Prevent CSA), our funding in Switzerland has focused on the promotion of positive gender norms. To this end, we support 2e Observatoire, which provides Swiss early childcare professionals and primary school teachers with guidelines to interact in gender-neutral ways with young children, and Männer.ch, which offers counselling and training services to men and fathers. In addition, we want for all adolescents in the country, in all their diversity, to participate fully in every aspect of life, which includes being able to express their gender identities and sexual orientation. To this end, we support organisations such as: the Swiss National Youth Council, for its work to better integrate LGBTQI communities into youth associations; Dialogai, for its Le Refuge project, which offers counselling and support to LGBTQI communities; and Radix, for the national implementation and scale-up of its Sortir Ensemble Et Se Respecter project, which helps young people learn how to resolve conflicts in their romantic relationships without resorting to violence. Going forward, the Prevent CSA plans to work with a regranting organisation focused on the empowerment of LGBTQI youth. We will fund various organisations working to include LGBTQI youth
involvement, campaigning, coalition building, community organising, and organisational development and capacity building.
We are proud of our grant-making in Switzerland. The list of grants to Swiss-based organisations for more than USD 50,000 that were active at some point in 2021 are listed on pages 14-15 of this report. In addition to these, our Trustees and Swiss-based staff made numerous discretionary grants to local organisations. From 1997 to 2021, the total amount of grants to Swiss-based organisations is USD 166.6 million (CHF 161.7 million).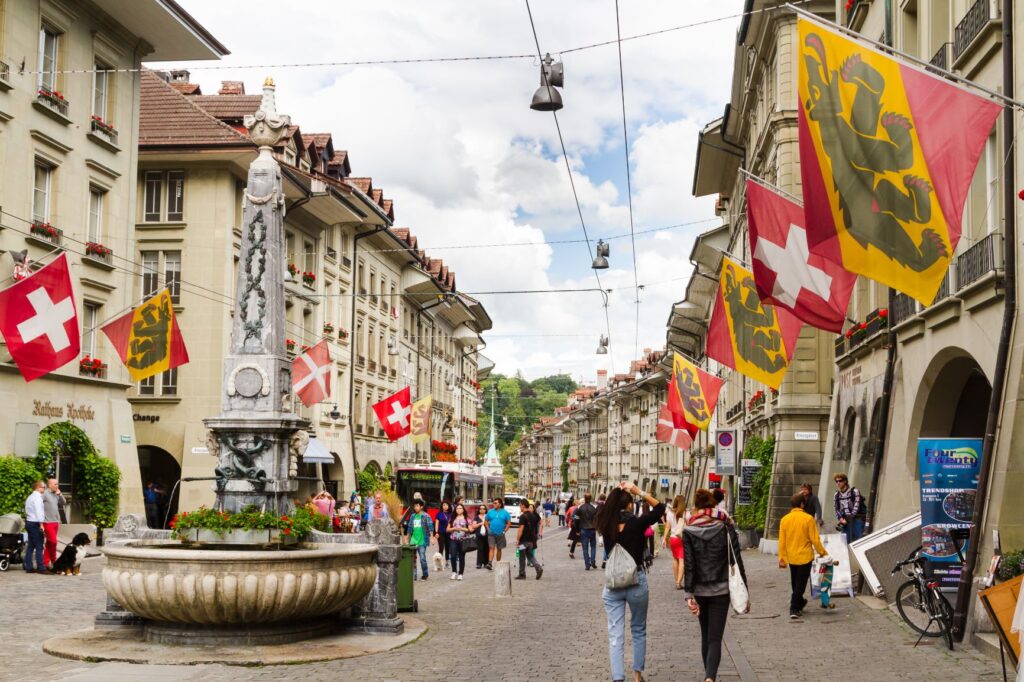 Les subventions accordées par Oak en Suisse au fil des années
La Fondation Oak, dont le siège administratif est à Genève en Suisse, est fière de travailler au cœur de la capitale mondiale des droits humains, aux côtés de centaines d'organisations sans but lucratif, d'agences des Nations Unies et de fondations, qui toutes s'emploient à faire de notre planète un monde meilleur, plus sûr, plus propre et plus juste. Nous avons choisi la Suisse pour la stabilité et la prévisibilité de son système juridique, politique et économique. Son cadre réglementaire qui régit les organisations caritatives est clair et soutient l'idée selon laquelle les sociétés démocratiques reposent sur la participation active des organisations de la société civile. De plus, Genève concentre un important vivier de savoirs et d'expertise, ce qui facilite le recrutement de collaboratrices et collaborateurs.
Au fil des décennies, nous avons accordé de nombreuses subventions en Suisse, à travers nos différents programmes.
Ainsi, notre programme international pour les droits humains (International Human Rights Programme – IHRP) apporte son soutien à des organisations travaillant à Genève avec les mécanismes onusiens tels que la Commission internationale des juristes, le Global Detention Project et Huridocs. Ces partenaires mènent des activités de plaidoyer, de recherche et de renforcement des capacités, tant avec des agences des Nations Unies qu'avec des organisations de la société civile actives à Genève et ailleurs. De plus, nous avons conscience du rôle important que Genève continue de jouer au sein du mouvement mondial en faveur des droits humains. C'est pourquoi le programme IHRP soutient aussi Civitas et Trial. Ces deux organisations sans but lucratif s'appuient sur le cadre favorable qu'offre la Suisse pour poursuivre des auteurs de violations flagrantes des droits humains afin de mettre un terme à l'impunité de leurs crimes. Ces cas sont poursuivis devant les tribunaux locaux suisses.
Actif depuis 16 ans en Suisse, notre programme sur les questions touchant aux femmes (Issues Affecting Women Programme – IAWP) finance actuellement 10 organisations dans le pays, dont beaucoup en Suisse romande. Nous travaillons au renforcement des droits des femmes et, plus largement, des mouvements féministes en Suisse. Actuellement, nos subventions se concentrent sur les prestataires de services qui s'emploient à lutter contre la traite, l'exploitation et la violence intrafamiliale, y compris psychologique. Par ailleurs, nous élargissons notre politique de financement pour aider les femmes migrantes à s'intégrer dans la société suisse.
Plusieurs partenaires de notre programme environnement (Environment Programme – EP) sont également basés en Suisse, comme le WWF International. Cette organisation de premier plan de la protection de la nature travaille dans près de 100 pays. Elle conçoit et met en œuvre, en collaboration avec les populations à travers le monde, des solutions innovantes pour protéger les communautés, la flore et la faune sauvages et leurs milieux de vie. De plus, la Swiss Philanthropy Foundation est le principal levier fiscal des nouveaux portefeuilles de campagne expérimentaux du programme EP qui visent à soutenir les organisations communautaires dans le monde. Et, à travers notre programme d'intérêt spécifique (Special Interest Programme), nous soutenons Swisscleantech, une organisation environnementale sans but lucratif qui s'emploie à promouvoir une économie soutenable en Suisse grâce à l'innovation technique, et une économie plus durable et libérale.
Notre programme d'intérêt spécifique soutient également plusieurs organisations sans but lucratif en Suisse. Parmi celles-ci: l'Entraide protestante suisse (EPER) aide et fournit des services aux populations migrantes à Genève; l'Association Savoir Patient s'emploie à améliorer les soins et la qualité de vie des personnes souffrant de cancer du sein; la Fondation MalleyPrairie aide les victimes de violence intrafamiliale; et la Fondation Partage, une banque alimentaire, soutient la lutte contre le gaspillage alimentaire et distribue de la nourriture et des produits d'hygiène à des milliers de personnes chaque semaine en Ville de Genève. Par ailleurs, Oak est fière de soutenir Médecins Sans Frontières et Terre des Hommes, deux organisations connues qui répondent depuis de nombreuses années aux crises humanitaires dans le monde, y compris la récente pandémie
de Covid-19.  
À travers le programme de prévention des abus sexuels chez l'enfant (Prevent Child Sexual Abuse Programme – Prevent CSA), nos financements mettent l'accent sur la promotion de normes positives en matière de genre. À cet effet, nous soutenons Le deuxième Observatoire qui fournit aux institutions de la petite enfance et au corps enseignant du primaire des guides d'interaction non-sexiste avec les jeunes enfants. Nous soutenons aussi Männer.ch qui offre un soutien psychosocial et des formations aux hommes et aux pères. De plus, nous voulons que l'ensemble des adolescentes et adolescents du pays participent pleinement et dans toute leur diversité à toutes les facettes de la vie, donc que ces jeunes puissent exprimer leur identité de genre et leur orientation sexuelle. C'est pourquoi nous soutenons des organisations telles que le Conseil suisse des activités de jeunesse (CSAJ) dont le travail vise une meilleure intégration des communautés LGBTQI dans les associations de jeunes, Dialogai et son projet Le Refuge qui offre un soutien psychosocial aux communautés LGBTQI, ainsi que Radix qui met en œuvre et développe au niveau national le projet «Sortir ensemble et se respecter» pour apprendre aux jeunes comment gérer les conflits dans les relations amoureuses sans recourir à la violence. À l'avenir, le programme Prevent CSA envisage de travailler avec une organisation de subventionnement axée sur l'empouvoirement des jeunes LGBTQI. Nous financerons des organisations qui s'efforcent d'inclure la participation des jeunes LGBTQI, le plaidoyer, la création de coalitions, l'organisation communautaire, le développement organisationnel et le renforcement des capacités.
Oak est fière de sa politique de subventionnement en Suisse. La liste des subventions de plus de USD 50'000 que nous avons accordées à des organisations basées en Suisse et actives à un moment donné en 2021 figure dans les pages de ce rapport. En outre, les membres de notre Conseil d'administration et nos équipes en Suisse ont octroyé de nombreuses subventions discrétionnaires à des organisations locales. De 1997 à 2021, le montant total des dons destinés aux organisations basées en Suisse se monte à USD 166.6 million, soit CHF 161.7 million.